Photos time~

A few days ago I unpacked my...uh...not-so-normal wear and took 'em to the cleaners. My first time going to the cleaners, lol. Anyway, decided to take some photos of the clothes since I had them all out anyway :D

This is my little maid-ish outfit, made the cat ears myself. They're clip on and my favourite pair <3 Once I was in an elevator wearing them and a lady was looking at them, and then she turned to me and said she knew they weren't real, of course, but how in the world are they attached to my head XDD
~~~~~~~~~~~~~~~~~~~~~~~~~~~~~~~~~~~~~~~~~~~~~~~~~~~~~~~~~~~~~~~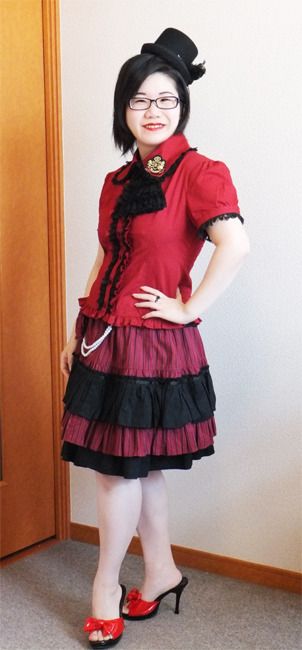 The skirt and hat in this outfit I bought on my first shopping trip to Tenjin, over 2 years ago now. The hat always catches so much attention when I go out, lol. The blouse is a recent addition to my wardrobe, I really, really love it. It came with the cravat at the neck, and it's detachable.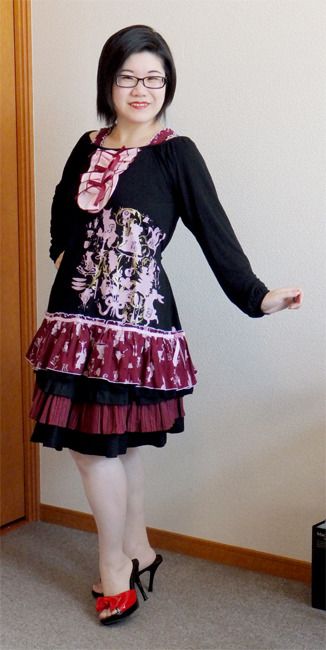 This shirt I bought recently, the print on it is a little Alice in
Wonderland inspired. I added a ribbon on the back which is where you see the waist slightly cinched, otherwise it kind of looks like a giant potato sack -__-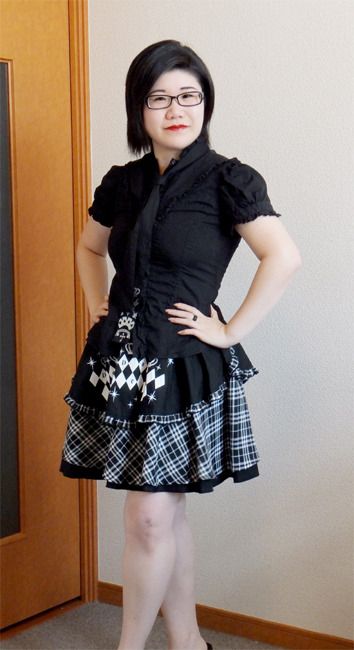 The blouse in this one was given to me by a previous student :D It's really cute, but a little bit tight around the bust, lol.

The skirt I'm not sure if the pattern side is suppose to be in the front or the back :/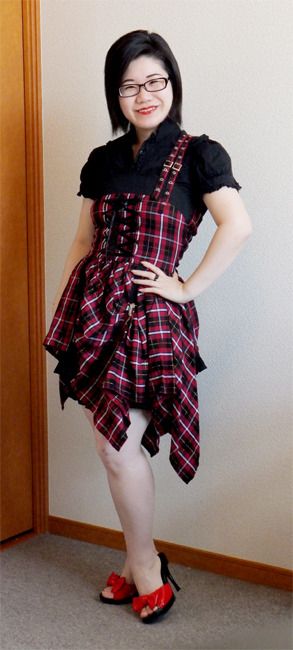 I so love this dress! It's one of my absolute favourites. I usually prefer solid colours for this check style, but this one I like. And I can adjust the length of the skirt since it's held up using clips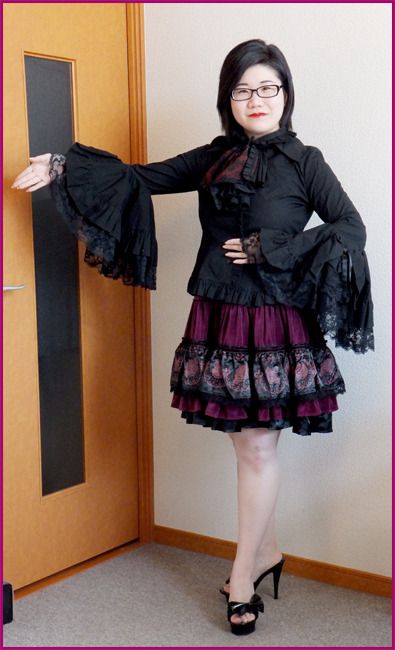 I adore this shirt but I wish I had a full-length gown on the bottom to go with it. The sleeves are all frilly with lace, but it makes it impossible to wear a coat over top, lol.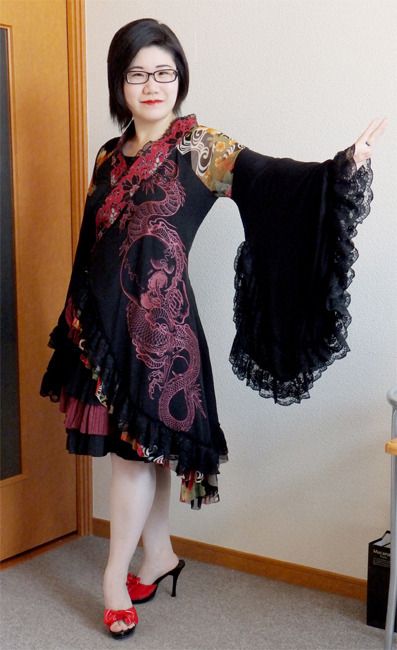 This Japanese/Chinese inspired coat is really handy and comfortable. I can just drape it over a skirt or pants, to add some flare to an otherwise normal outfit.

It's also nice and loose, for those days when I eat too much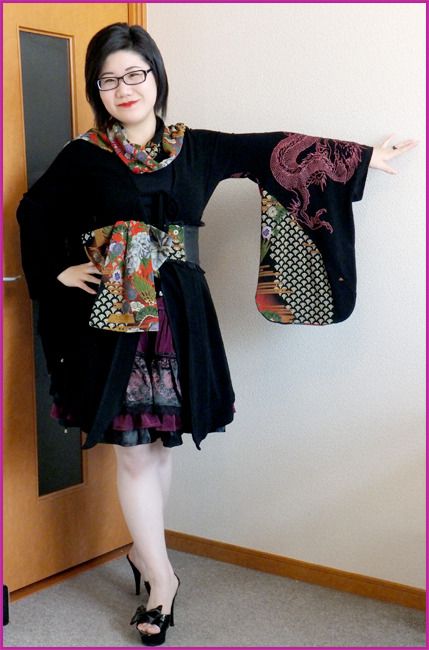 This one's from the same company as the one above. YOu can kind of see a similar motif in the patterns. This one's a bit more complicated, it's a coat, with a scarf, obi (belt), and the bow for the obi is pre-tied.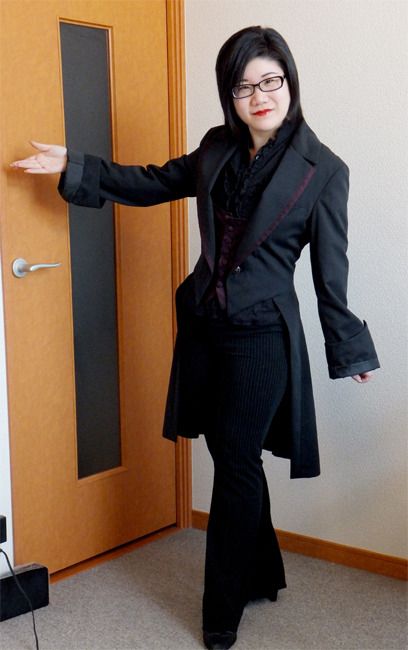 My absolute favourite coat in my closet. I wore it to my school for Halloween and the kids and teachers all loved it too. I really wish I can get more of this styled coat in other colours too <3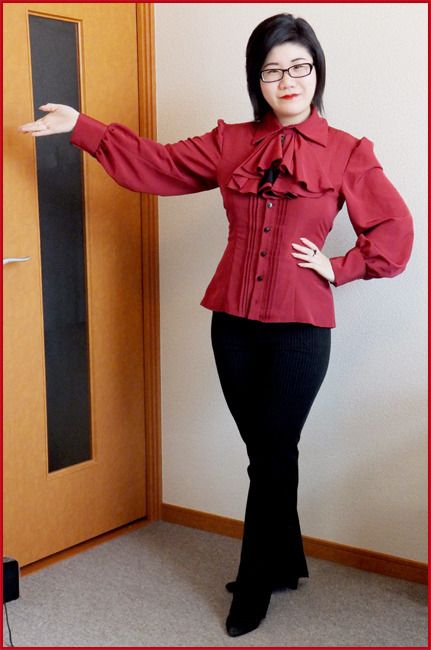 This blouse is really comfy. It's soft and flowy, and the cravat is detachable too. I like the cravat for the flare, but if it's winder outside it's kind of a pain since the cravat tends to fly into my face -____-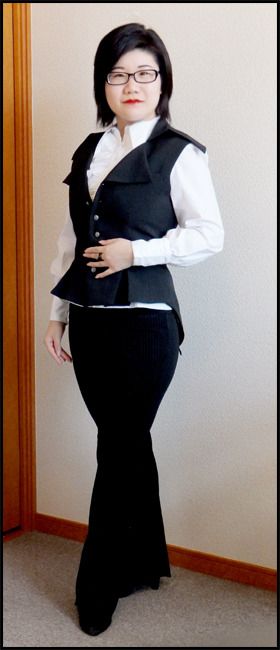 Usually I don't like vests that button up too high, but this one looks nice. I just wish the collar isn't so large though. I think the collar is meant to be standing, but my neck is short so a standing collar looks really awkward on me.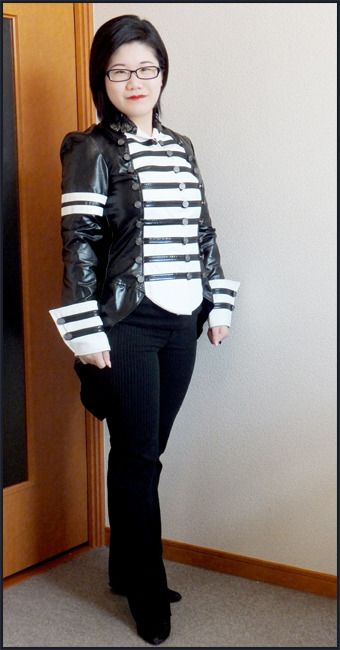 This coat I bought in Canada. It's really cool but the material is pleather so it doesn't breathe at all! It gets so freaking hot...