Whoo! Haven't been updating recently, been too busy arguing and debating over on facebook over the current Free Tibet issue. So, yesterday, April 13th, 2008, 5000 of us gathered in Ottawa and answered the calls of our brothers and sisters from around the world. From Munich (Germany), Paris, London (England), Sydney, Melbourne, Vancouver, Edmonton, Montreal, Toronto, San Francisco, Durham (USA) and now in Ottawa, Canada the Chinese abroad have stood united in one voice telling the Western media that bias, slandering and the lies that they have consistently been reporting over the issue of Tibet will not be tolerated anymore.


~*~*~*~*~*~*~*~*~*~*~*~*~*~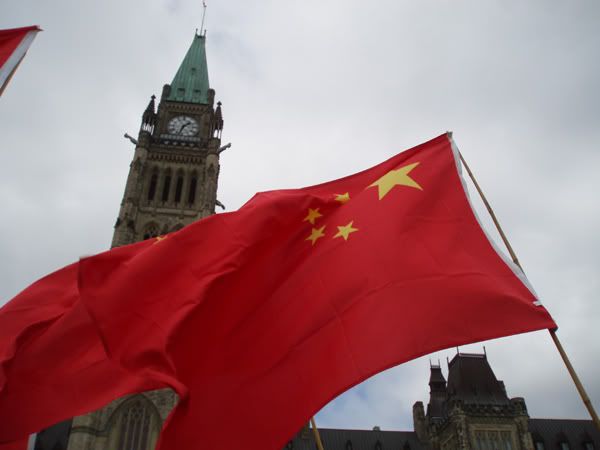 From singing of the both countries' national anthems (
http://www.youtube.com/watch?v=xmWS4cTHmTU
) to speeches (
http://www.youtube.com/watch?v=TW0aajshcYY
) to Olympic songs (
http://www.youtube.com/watch?v=VwTmZTIrK7E
) it was envigorating to see so many people stand in solidarity.
And look! We ended up on the news!!
Plus a CTV broadcast:
http://www.youtube.com/watch?v=ed5bgLLlBss
CTV online article:
News article